Why Altruism Is The Ace To Get Your Dream Design Job
Aug 13th, 2018 - Written by Andree Huk
Good to know: This article was written for Smashing Mag: Why Altruism Is The Ace To Get Your Dream Design Job.
• • •
Getting your dream job is not too complicated but it will take effort. This article may be the last obstacle that stands between you and your next dream job.
Hunting for a design job can be daunting but it does not need to be. In fact, the most telling predictor of how user-focused a designer you are, is how you see the company you apply to.
In this article, I'd like to outlines uncommon tactics and crucial aspects that can help any designer. In order to get your dream job, I'll discuss in detail on how to plan and execute your outreach to recruiters or hiring managers. Writing a stellar CV by analyzing job descriptions or calculating how many applications you have to send are just some of the aces in your pocket.
The Biggest Issue In Job Hunting
The cover letter below is the worst application we have received in years. It lacked everything you may be looking for in an application. Apart from neither an introduction nor a name, it tells the story about "me, me, me" at its best, unfortunately. And unsurprisingly, the "portfolio" did not match either.

I did hunt for a job myself in the past, of course. But since running blended.io for a few years now, I can tell that the attitude of "me, me, me" does not fly well. It is the biggest issue that prevents people from getting their dream job.
Can you see why? Imagine that you hire a painter to paint your living room. The painter comes by, does not listen to you and then paints the room in a color that he/she likes - not what you want. You hired a painter to paint the room in your favorite color, right?
Fundamentally, designers like to see themselves as the voice of the user. Designers solve user problems, don't they?
Interestingly, that user-driven attitude turns into plain selfishness when designers start to look for a new job. Many want to solve their need only. Obviously, the company wants to hire someone to solve a problem they have internally. Henceforth, any designer who does not realize that the company one applies to is actually the user in question, should not be in (user-centered) design to start with.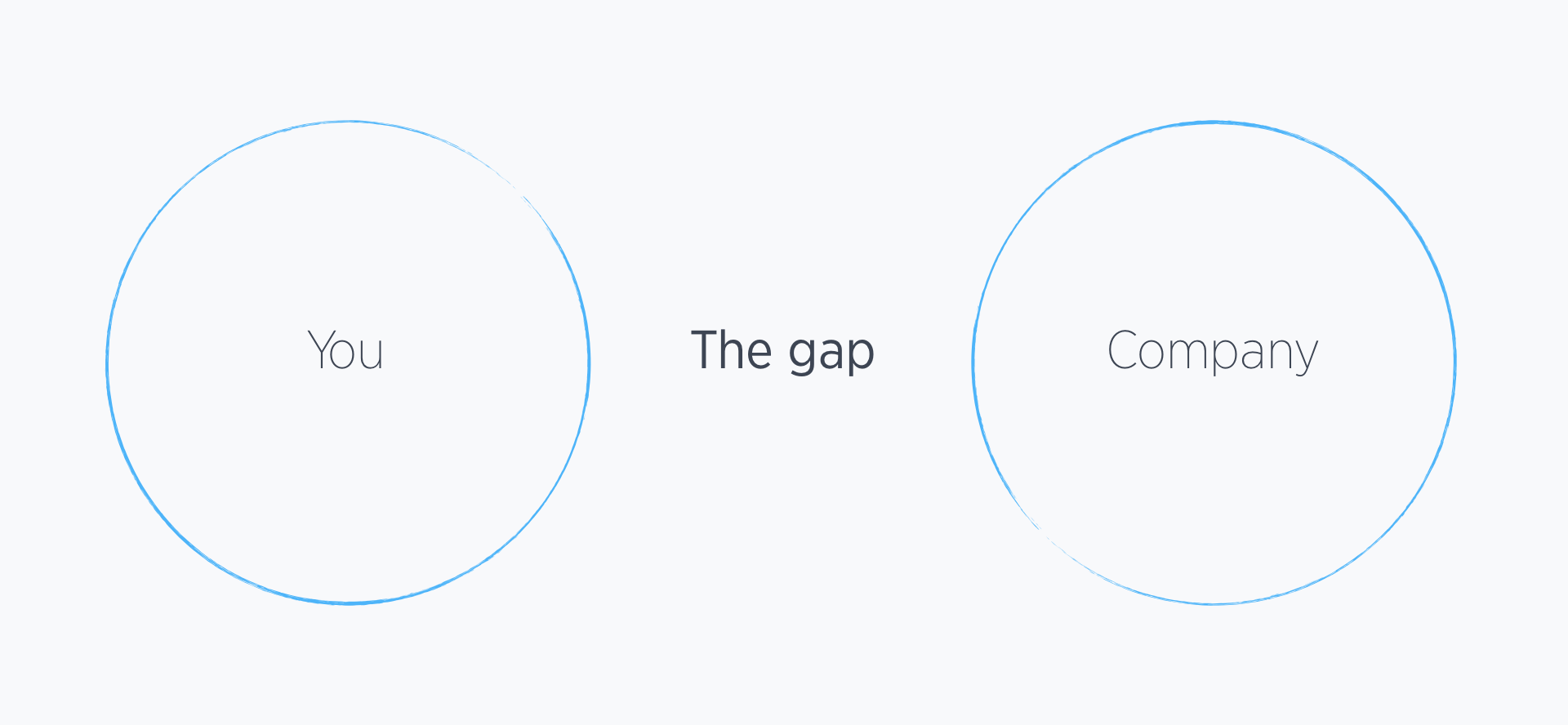 When you look for a job, you may ask yourself:
Can I do interesting work?
Will I get along well with the coworkers?
Do they pay well?
Companies, on the other hand, ask themselves:
How much experience does s/he have?
Will s/he fit well?
Do we get extra value for what we have to pay?
See the problem? There is a clear gap. You may now say that the company is mainly focused on their problem, that is, matching a candidate with their internal need. Indeed, they are. Does a user for whom you are designing care about who designed the product? No.
By now you should be able to see why "Me, Me, Me" is such a big problem. An application that screams "Me, Me, Me" plainly shows the company that the applicant's sole purpose is to look after her- or himself. For context, would you buy stuff you really don't need? No. Alas, why shall the company hire someone they don't need? In terms of UX or design in general, the most telling predictor of how user-focused you are is how you see the company you apply to.
When I started to write this article, I spoke with a friend of mine. Let's call him Mark. Mark told me that he was on the lookout for a new job and that the process was going OK. I urged him to review his approach and cover letter regarding "Me, Me, Me." The following day he changed the email and cover letter he had wanted to send and turned "Me, Me, Me" into "How can I help you achieve your goals?" Guess what? He was invited for an interview.
Of course, I cannot fully tell whether it was the change in approach or his strong portfolio, or something else. It may well have been the case. Though, I find it interesting that he was invited the next day.
Actual Applications, Real Insight
In the past, we've recruited designers and engineers for our innovation agency. After some time, you can see patterns emerging. To notice the subtleties of these patterns, we will review job applications that we have received.
The following are actual applications for a position as Software Engineer (NodeJS). These below are not handpicked but rather a somewhat random selection.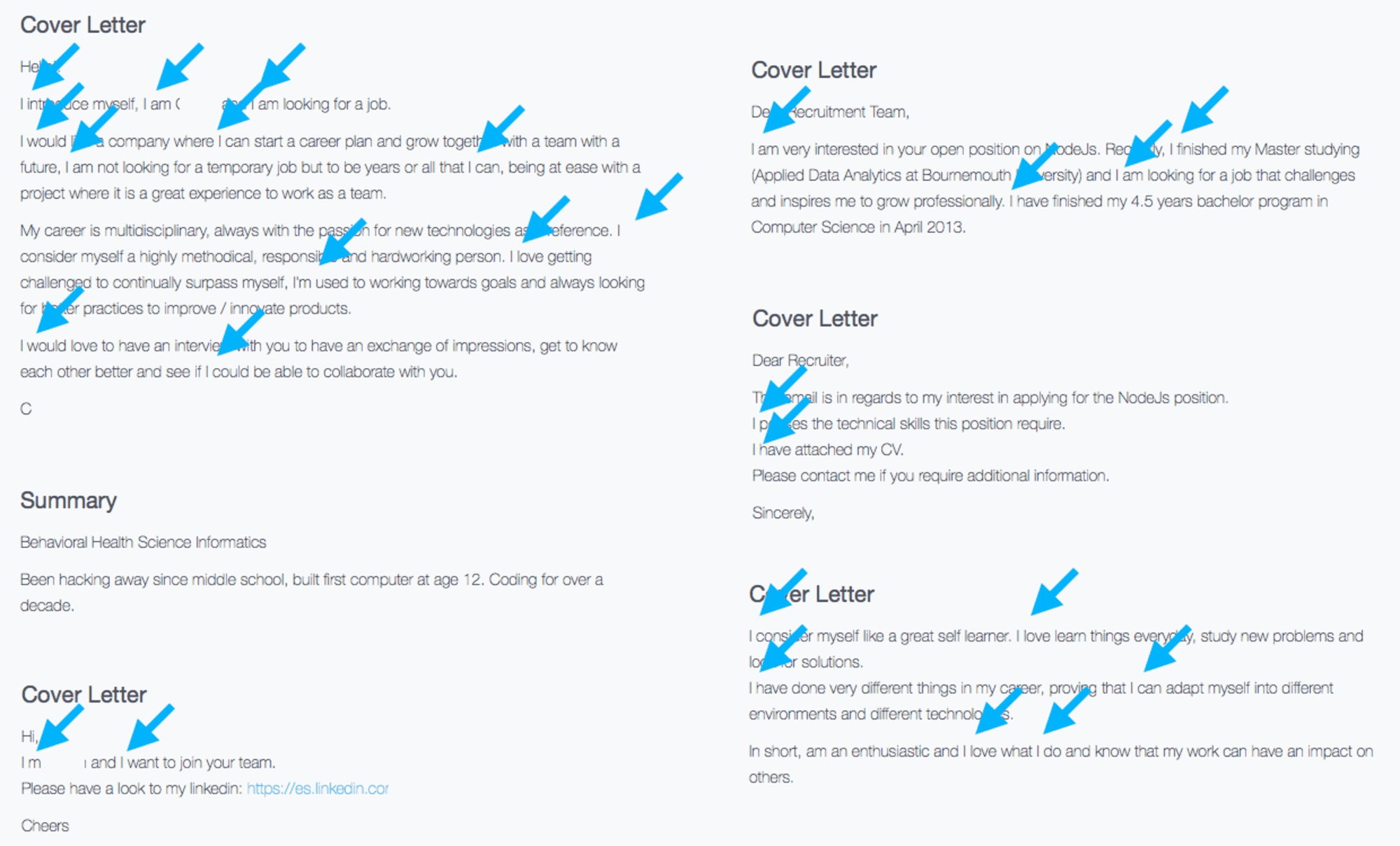 Let's review the main points we notice from these applications above:
Around 80% of cover letters start with "Dear recruiter" or similar, not addressing a specific person. Why does this matter? We are not 100 people at our company. The applicant does not show interest as she did not bother to look up the person who could be in charge.
The majority of applicants start many of their sentences with something like "I can, I want, I will." Why does this matter? When you design a product, who do you design for? Exactly, the user. As we pointed out above, the user is the company to which one applies.
As this is an article for designers, we will also review applications for a design role. After we received an application for an Interaction Designer, we sent out additional questions to the applicants to better understand their background.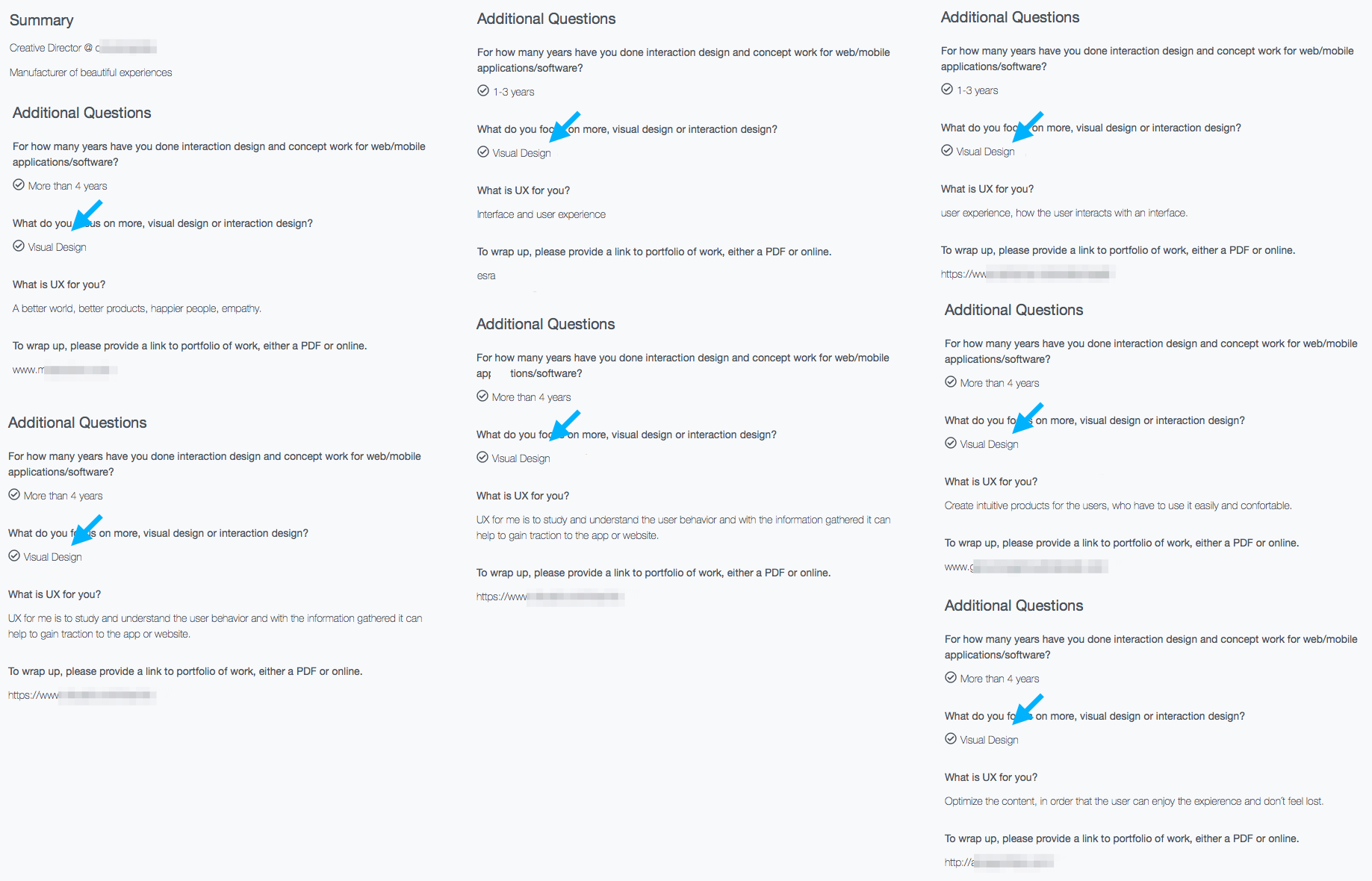 The form we sent out included a question about their past work and experience. As it turned out, many applicants sent very similar answers to the ones you see on the image above. The most interesting: On the question what the applicant focuses on most, almost everyone responded with "Visual design." Keep in mind that the role advertised was for an Interaction Designer vacancy. I cannot tell whether it was clear to applicants what interaction design implies, but why would they apply if they don't understand the role's responsibilities?
Remember what I explained above? An applicant focused on the user (that is, the company in question) should realize that such replies do not match the requirements (the need) and will not make the cut. The best indication of the actual problem company X has is the job itself. Unless you know someone at that company, the best starting point are the nuances of job descriptions.
In the next section, we will review how to read job descriptions and how to best prepare your CV, resume or portfolio. Further, to show you hands-on examples of what kind of cover letters we really liked, you will find two examples at the end of this article.
How To Read Job Descriptions
I am not a person who ever worked in the recruitment industry per se, nor do I recruit 8 hours per day. I will cover the most important aspects seen from my perspective.
A Cover Letter - Again?
Imagine a funnel that has five steps and only allows items with a certain property to pass each step. The cover letter is part of the first step. It segments those out who are not willing to take the effort and tell why they are interested. For context, Imagine a pay-to-play game with a certain economic benefit for the winner. You would not pay up for a game if you would not think that you could win, right? Same with the cover letter. The effort you put in is the upfront payment.
We, as the hiring company, look for a match to the role we want to fill. Sounds obvious I would say. Nonetheless, we receive applications that just do not match up. The reason is twofold: First and foremost, the experience, value, and skills often don't match. Second, if an applicant does not send a proper introduction, resume or portfolio, how can we tell whether experience and skill set match?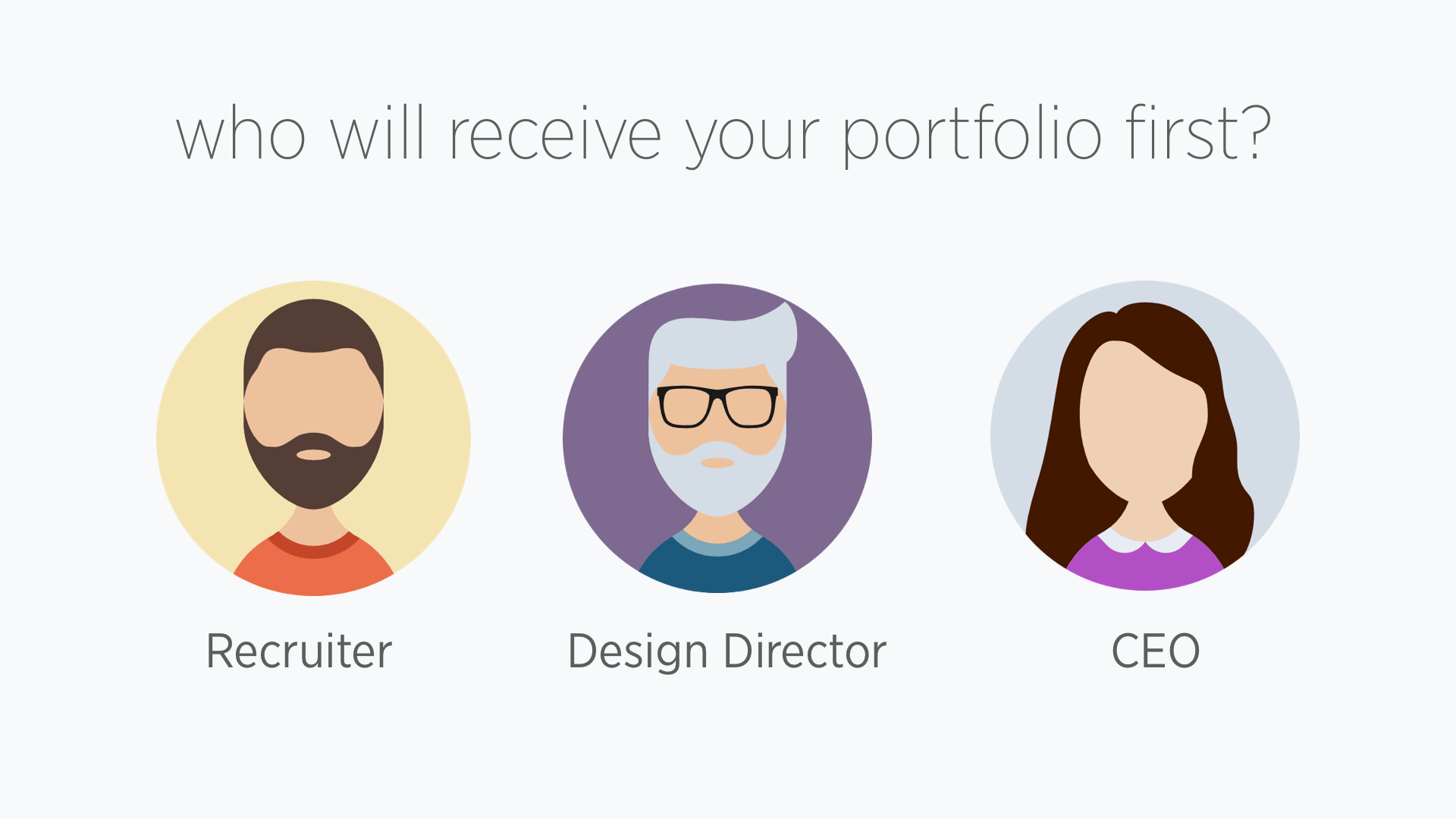 • • •
Want to find out how I received 35 introductions when job hunting in San Francisco?
Read the full article at Smashing Mag: Why Altruism Is The Ace To Get Your Dream Design Job
Read more about:
Quick Portfolio How-To
The Market Drives Everything
"Hello, I Am Awesome"
How Do You Know Where You Stand? Ask!
Networking: How I Received 35 Introductions
How ask and write introductions
How to apply
Do the math of job hunting
---
Want to come up with a new digital product, expand your existing business, stay competitive? What's your next step?
Get in touch with Andree Huk
at +49 30 5557 7174 or [email protected].